Be Sure to look at our other website!!!
Please check out our other website www.DownNDirtyHats.com
Thank You, and God Bless
For other questions email us at: Americanpatriothats@gmail.com
or text us at: (916)-919-2121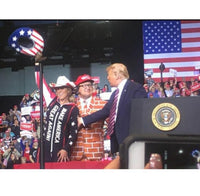 This is the most unique and hottest selling item at the rallies! Even our great President said "Keep up the good work!!!".